Yannick Tranchant, in the name of Flavour
As far as Flavour is concerned, Yannick Tranchant will do whatever it takes. He is incessantly testing, perfecting his recipes. It goes without saying that when you listen to him, you feel inspired.
" Taste is the guiding principle."
If I say the word "Flavour", what does that signify to you?
For me, Flavour is very important. Flavour must be clear, bold, direct, precise. When you serve a dish or cook with a product, it must be immediately identifiable. That is really very important. For me, Flavour really is the guiding principle. I have always tried to get the most out of a product, to put it in the spotlight. We conduct tests - some work, others don't - but we try and try until we get it right. When you are developing a recipe, that is super important.
How would you describe your cooking?
It's really a style of cooking based on mood and emotion. How I feel about the product, what kind of emotion it makes me feel, that is what dictates the way in which I am going to work with it. That is really how I would describe my cooking, it's really a question of feeling, the feeling the product inspires.
Do your recipes evolve over time?
Yes, all of my dishes are constantly changing because, in fact, I am never satisfied with myself. So, they change depending on our tests. We test all kinds of things and we make changes. We make changes, we adapt according to the products too. For example, all cauliflowers are not the same, they don't all have the same flavour. So, we adapt our cooking to all our products and the ways in which we prepare them. A boiled cauliflower and a butter-roasted cauliflower are not at all the same.
And cream, what role does it play in your cooking?
I can't even imagine cooking without cream, it would be utterly impossible for me. You mustn't forget that cream is a flavour enhancer. And, well, it's just so good!
Your origins are in Brittany and Normandy. What do you like about the flavour of Elle & Vire Professionnel® Excellence Cream?
I like its bold flavour. Its dependability, its stability, but especially its bold flavour. I have worked with it since I first started as an apprentice, so I just can't imagine working with another cream. It's natural for me. It's true, my ancestors come from Brittany and Normandy, so some flavours have marked me, like buckwheat, for instance. I toast buckwheat and it is the perfect match for Elle & Vire Professionnel® Excellence Cream - they really go well together. It gives a gentle caress to the recipe and that's really nice. It's simply perfect.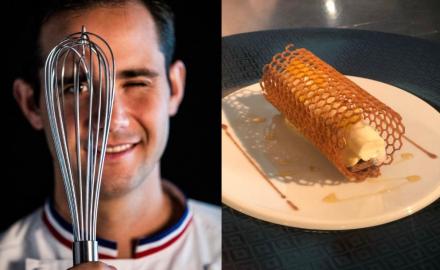 Our news / 11 December 2019
Last November, over 200 chefs had the chance to attend a pastry demonstration at the Sheraton Hotel in Bucharest. It was...
More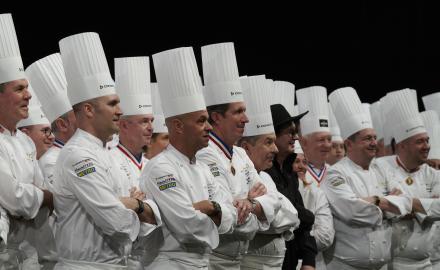 Our news / 16 April 2021
Save the date : The Bocuse d'Or international final is scheduled on Sunday 26th and Monday 27th of September 2021.
More
See more news