Based in Dubai since 2011, Chef Karim Bourgi is Executive Pastry Chef for the Al Mana Group, a role in which he manages the opening of La Maison du Chocolat Paris boutiques in the Middle East. He has just opened the Hermes Paris Cafe in the new Fashion Avenue Dubai Mall. Designated 3rd Best Pastry Chef at the Pâtissier dans le Monde competition in 2014, this lover of patisserie, born in Senegal to Lebanese parents, has trained in the finest establishments. A member of Les Toques Blanches du Monde, Chef Bourgi founded his own consultancy and boutique, KB Gourmandises, four years ago - which currently employs four people. This is his portrait.
How did you become a Chef?

My interest in pastry began at the age of ten, when I would help my neighbour who was a baker. I was fascinated by his piping bag! But it was actually when I was 15, when I would watch cooking shows, that I decided to make a career of it. After gaining my professional qualification from the Faculty of Hospitality Management in Beirut, I enrolled at Le Cordon Bleu Paris in 2000. There I acquired a solid technical grounding which I later supplemented with a professional development certificate. I then joined Ladurée Paris, followed by Fauchon. I was tasked with opening three bou-tiques in the Gulf region, particularly Fauchon Etihad Towers, in Abu Dhabi. I was with them for nearly three years before joining the Al Mana Group.

You were born in Senegal to Lebanese parents, you studied in Paris and are currently living in the Middle East… How does this mix of cultures influence your approach to pastry?

I was two years old when we left Senegal and moved to Lebanon, a country with an exceptional gastronomic heritage. I adore orange blossom and pistachio - the cornerstones of Lebanese pastry. In fact, when I was at Fauchon, I created a date and orange blossom éclair. The embodiment of French-style excellence with eastern flavours… I would say that's a good example of the alliance of cultures!

What are the particularities of Dubai when it comes to pastry?

When I arrived in 2009, Dubai was very different from what it is now: the epicentre of Asia. Nowa-days, everyone wants to live there, the cultural and culinary influences are varied and shape a mul-tifaceted life. As elsewhere in the world, US culture had been omnipresent for years. However, pro-found changes are afoot. Dubai is attracting Chefs. French brands and boutiques are moving in. These changes are reflected in consumer demand. While the aesthetic aspect has always been important, consumers are now also very exacting in terms of the taste. As Chefs, we have a real role to play in culinary education - one that I take very seriously!

What is your signature pastry?

The Paris-Brest, without hesitation! Choux pastry, old-style praline, almonds, a hint of caramel: it's definitely one of my classics.

How do you feel about the new consumer trends?

These days people want to eat healthily, cut down on sugar… There's a desire for lightness. Not to mention special diets, such as gluten-free, which are adopted for medical reasons or out of person-al conviction. These new dietary practices are bound to have an impact on how we create recipes.
Through the rapid dissemination of information, social media accelerates trends and plays a fun-damental role in how consumers relate to food. I opened my Instagram account in 2014, convinced of the new opportunities that it would offer.

How do you apply the principles of food-on-the-move to pastry?

These days, we gravitate towards what is easy to eat. That is something we consider when devising a recipe. Packaging also needs to be designed with this in mind.

What do you enjoy about your work as a consultant?

I love sharing my know-how and interacting with others – it's a source of enrichment and feeds my creativity. While my masterclasses are 90% reserved for professionals, I do also train novices, as was recently the case in Eastern Europe. And contrary to what you may believe, it's not that much more difficult than training professionals!

What are your links with Elle & Vire Professionnel?

I have always used Elle & Vire Professionnel products. I have a very strong connection with the brand, with which I share many values, and first and foremost the continued choice of quality. I also use the programme dedicated to professionals, which I find particularly inspiring. My favourite products? The Unsalted Gourmet Butter 82% fat with its easy-to-work texture and the Excellence Whipping Cream, a definite must-have for thousands of Chefs worldwide.

Why have you chosen this recipe?

The éclair is one of my specialities. As well as reminding me of my childhood, it is timeless and per-fectly suited to the new modes of consumption because it is very easy to eat, and as such pro-foundly modern. This is a version made with speculoos whose crunchy topping gives it a different texture.
---
Discover the universe of Karim Bourgi Recipes from a great chef...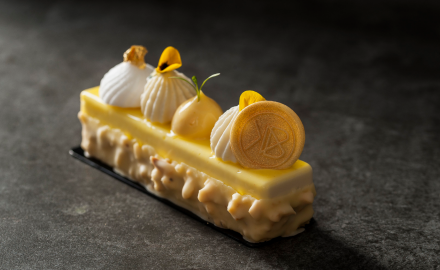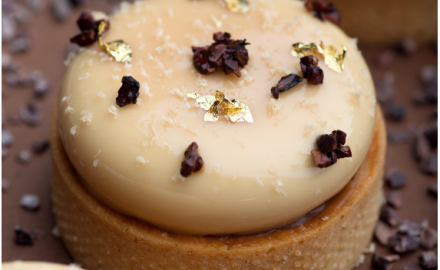 See more recipes